Note: SITN is currently testing the YI M1 camera — watch for our full camera review, which will be out soon, and enjoy this lens comparison in the meantime.
The YI M1 mirrorless camera has created a lot of buzz in the photography world. And it's all warranted, as it promises a sleek touch-based interface and image quality far above its price with its 20MP MFT (Micro Four Thirds) sensor. It's also the cheapest way to get into MFT 4K video.
One concern potential buyers may have with the YI M1 is its bundled kit lens. After all, the camera is being offered by a brand-new entrant to the photography industry with no prior experience in interchangeable lens cameras. SITN was curious how YI's kit lens compares to typical kit lenses offered by Olympus and Panasonic, the two main manufacturers in the MFT system. So, we compared the YI 12-40mm f/3.5-5.6 kit lens to a Panasonic 12-60mm f/3.5-5.6, a relatively new lens that has typical image quality for an Olympus or Panasonic kit lens based on trusted tests. The outcome of this comparison will determine whether the YI kit lens adds to the value of the YI M1 camera bundle and is worthy of use as a main lens, or if it's better left in the box as a spare while you use a more established Olympus or Panasonic lens with your YI M1.
A night test scene was shot at different apertures and focal lengths, and the results are shown below. All photos were taken with a Panasonic GX8, and are unedited JPEGs with all in-camera enhancements (i.Dynamic, i.Resolution, Photo Style, etc.) set to Off or Neutral.
12mm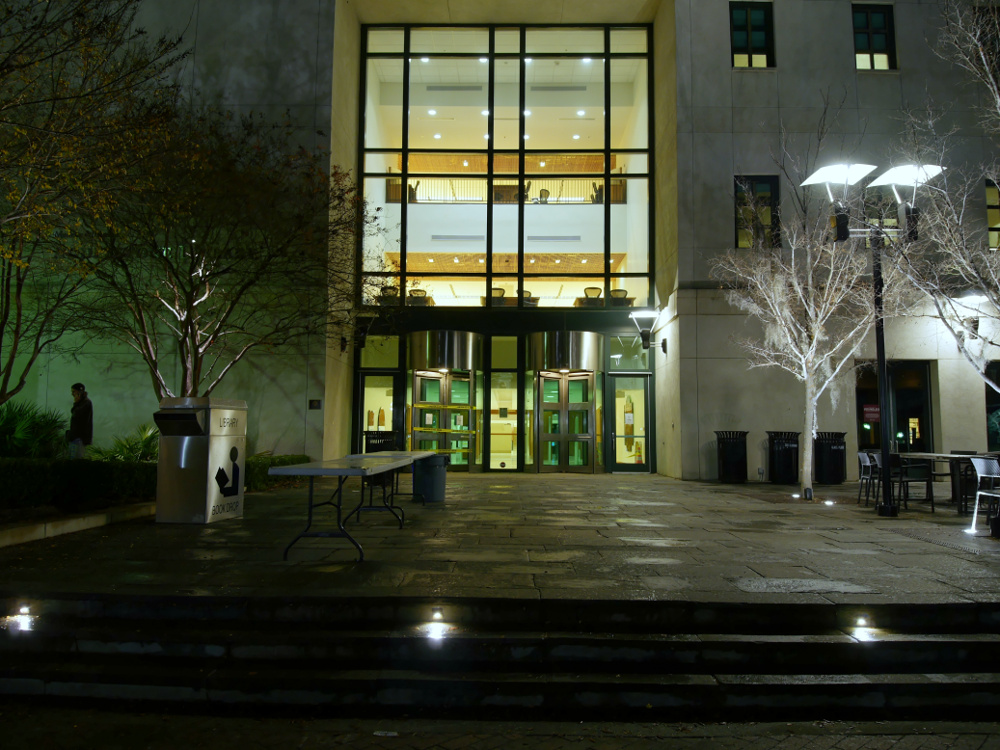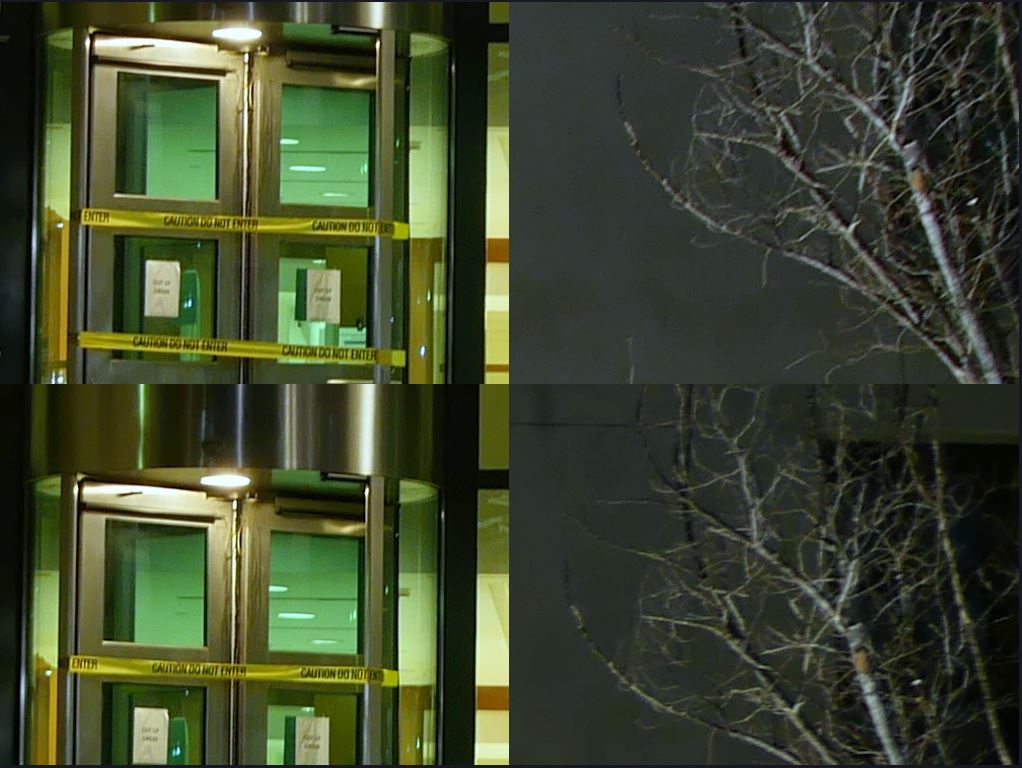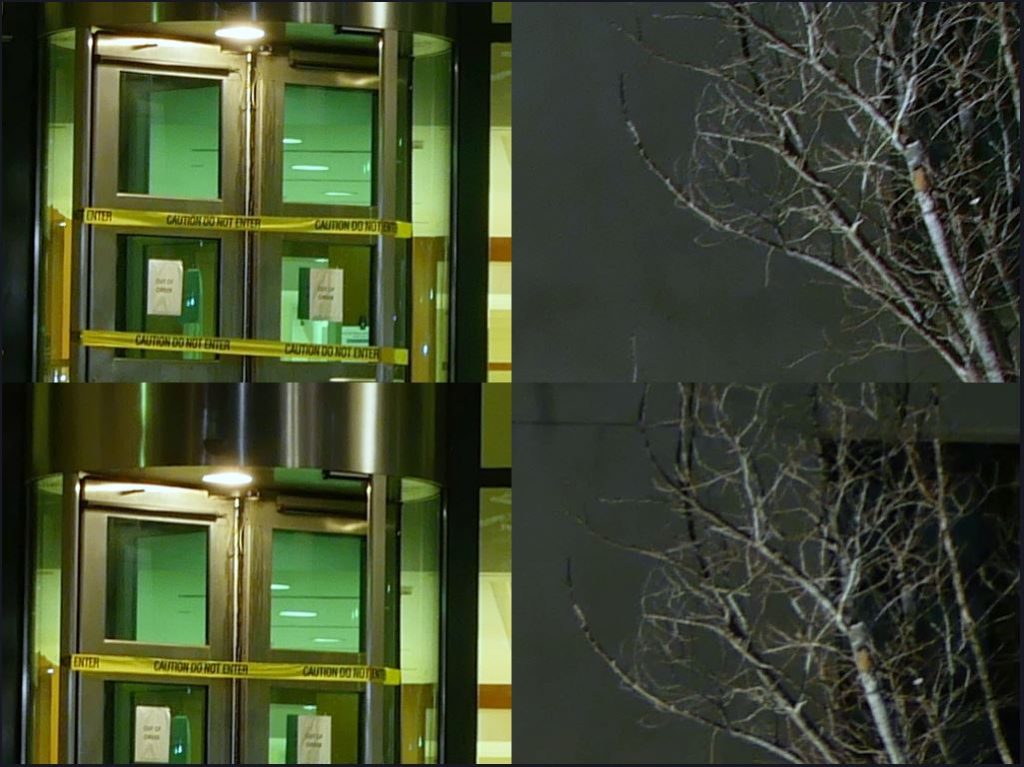 The two lenses' performance at 12mm is similar. The YI 12-40mm shows less vignetting (darkening at the corners) and greater corner sharpness than the Panasonic, surprisingly. In the center, the lenses are nearly neck-and-neck.
18mm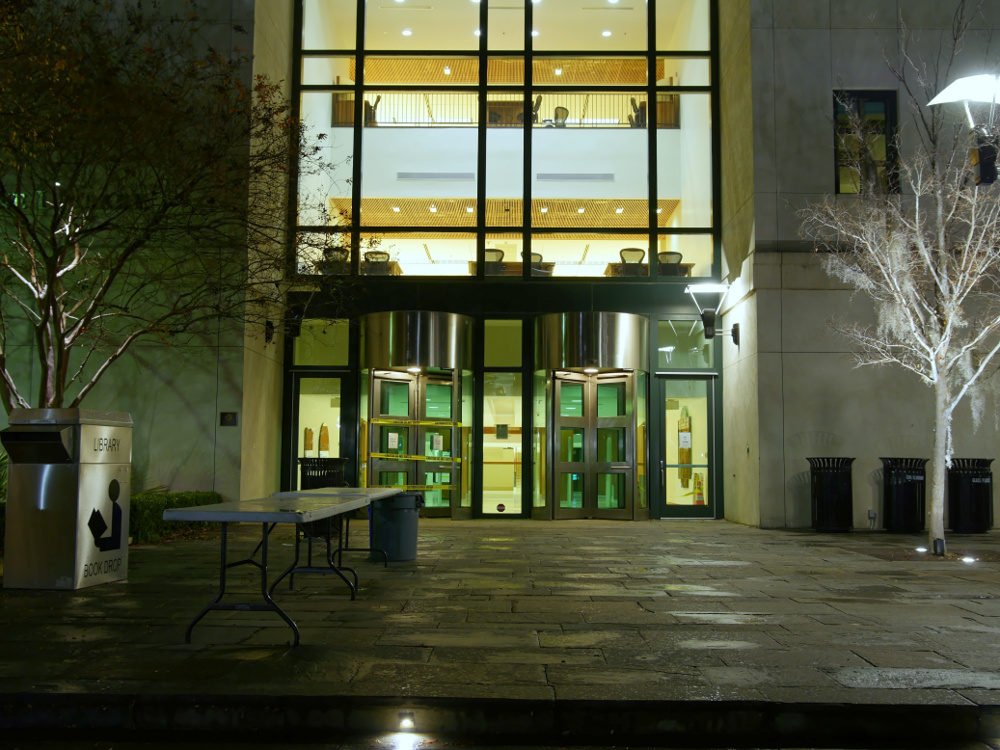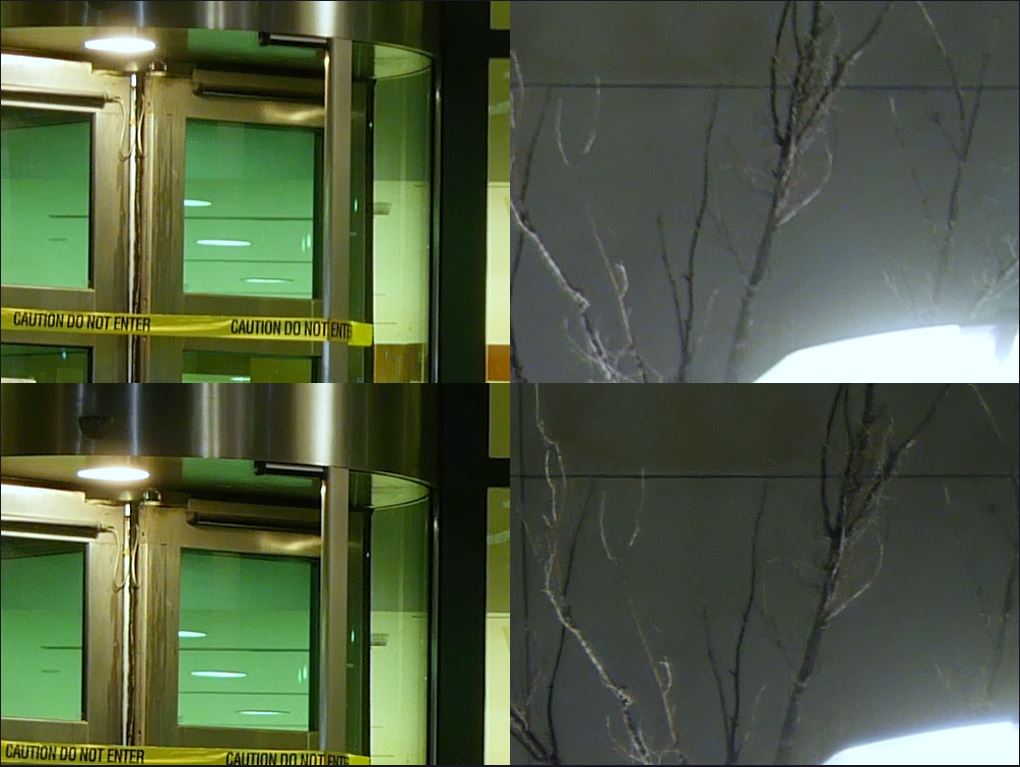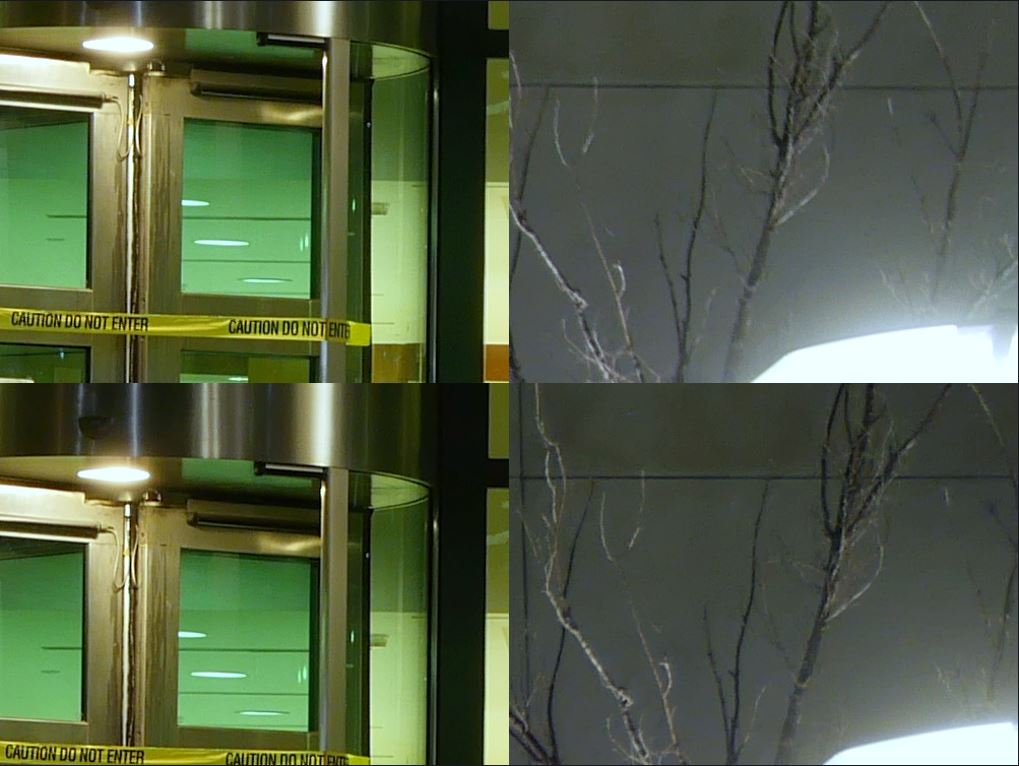 Both lenses seem to do better at 18mm than at 12mm, especially in the center. The YI's advantage in the corners has eroded at this point, though, especially in terms of sharpness — in fact, the Panasonic now looks a little sharper in the corners. The YI still maintains an edge in vignetting control, however.
The lenses' maximum apertures begin to diverge by 18mm: while the Panasonic can do f/3.9 at 18mm, the YI only manages f/4.5 — 1/3 stop lower. This is to be expected as the Panasonic has a slightly longer zoom range.
25mm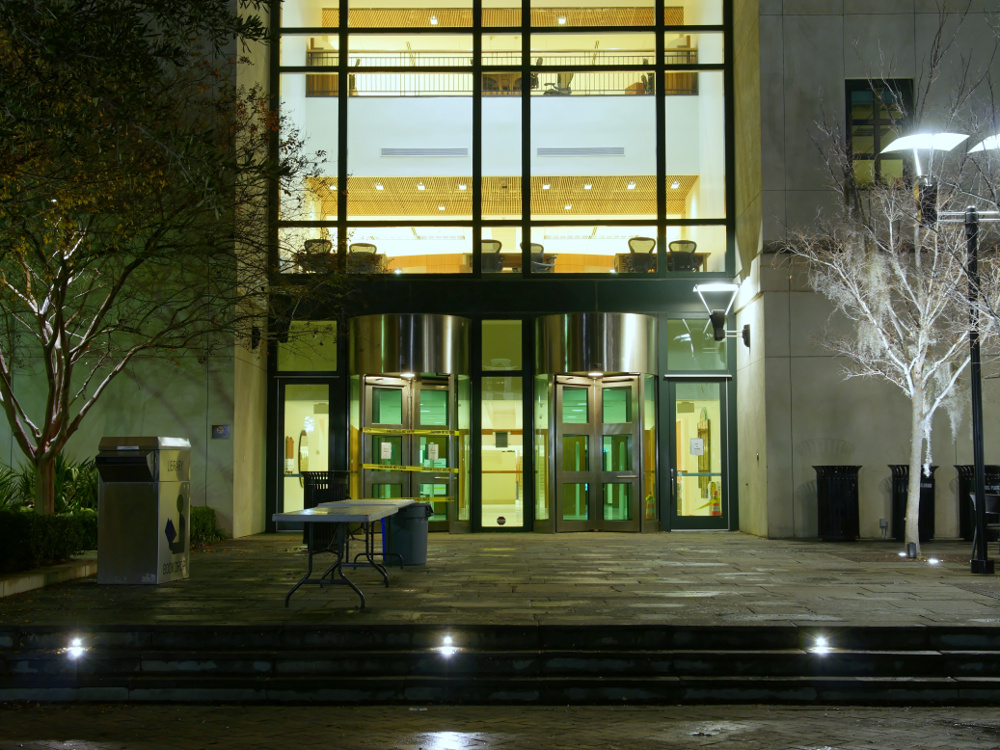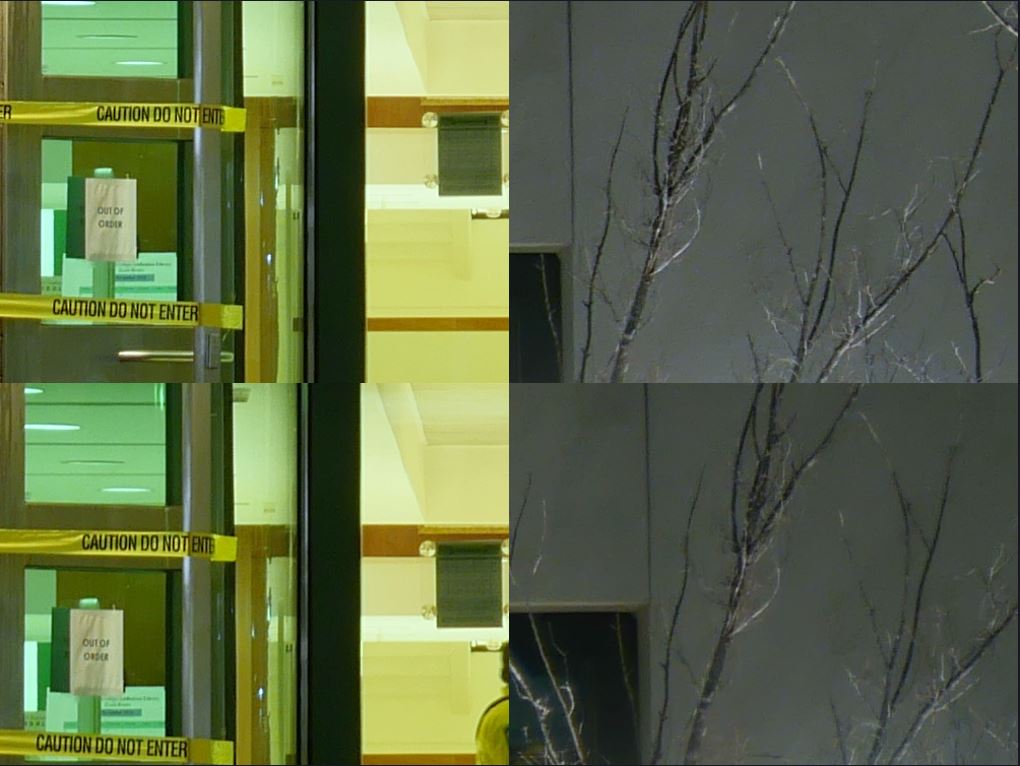 The lenses' maximum apertures diverge further at 25mm. Here, the Panasonic can open up to f/4.5, but the YI is already down to f/5.6 — a significant 2/3 stop difference (equal to the difference between a f/1.4 and f/1.8 lens). As a result, crops are only shown at f/5.6 for a direct comparison. Here, at 25mm, the YI regains its advantage in the corners, with lower vignetting and significantly greater sharpness. The center results are still almost indistinguishable.
40mm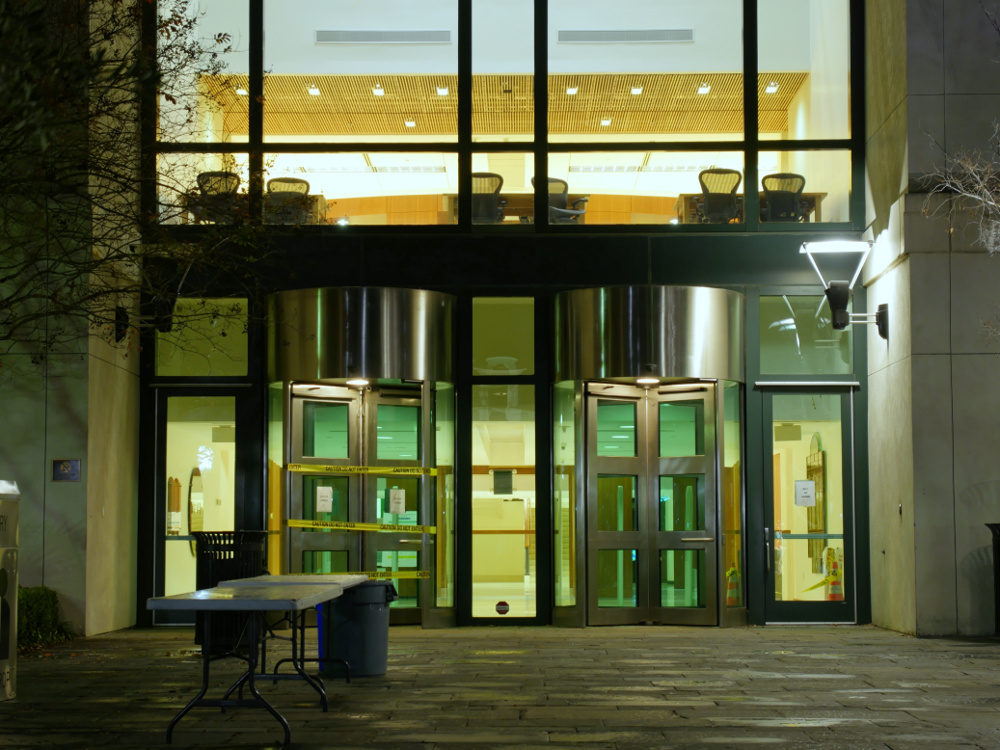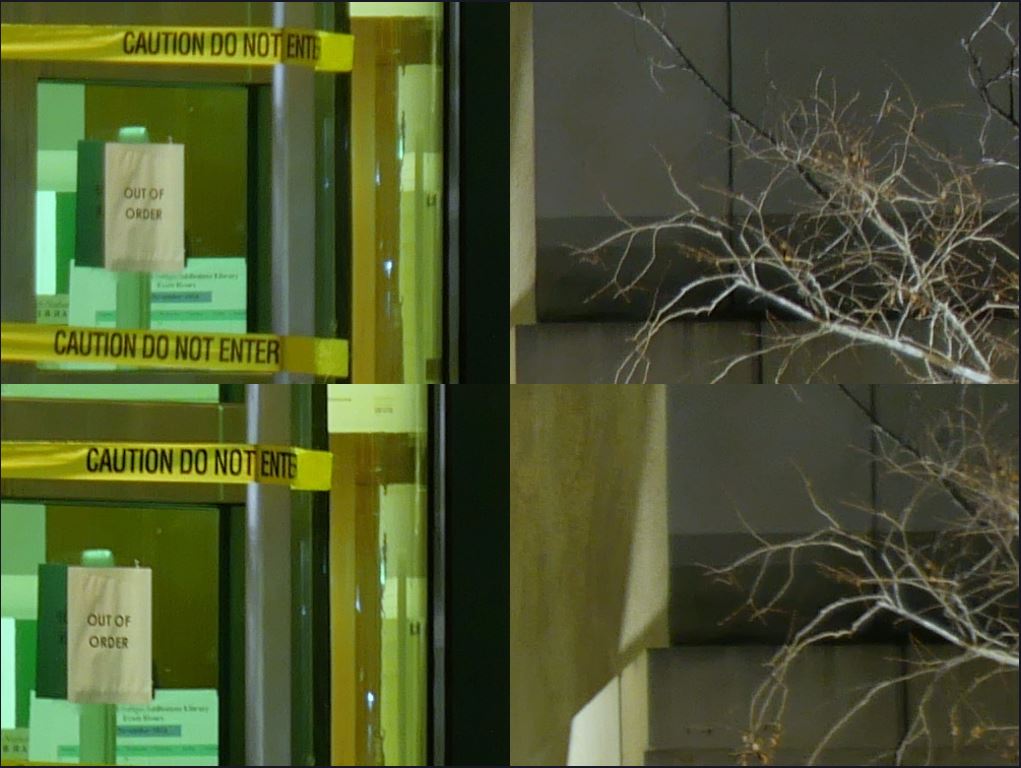 At 40mm, the differences are more clear than at any other focal length. The YI is much better in the corners (again), but unfortunately falters in the center by a noticeable amount relative to the Panasonic. This attribute of the YI 12-40mm may be partly why YI decided to develop a 42.5mm f/1.8 as a second lens for the Yi M1.
40mm vs 60mm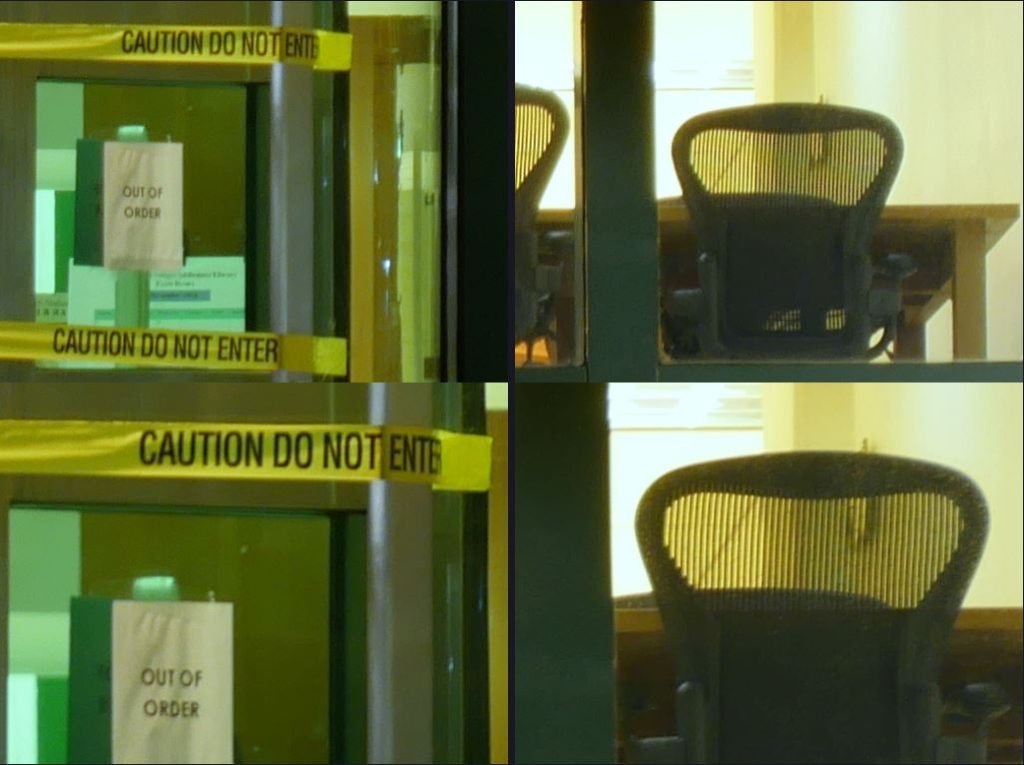 Zoom lenses are commonly known to lose quality when zoomed out to their maximum focal length, so it wasn't exactly completely fair to compare both lenses at 40mm, where the YI is maxed out but the Panasonic still has 20mm to go. Nevertheless, comparing both lenses at their max focal lengths, the Panasonic still provides a clearer and sharper image in the center, while corner performance is more tied-up (and, honestly, it's difficult to tell, given the difference in focal length).
Conclusion
"Surprise" would sum up this test in one word. While the YI 12-40mm wasn't necessarily slated to be a trainwreck, it's unlikely that anyone was expecting wholly solid performance from it either. Yet, that's what it delivered. It's center sharpness is competitive, other than at 40mm where it drops off significantly, while its corner performance is solid throughout, besting the benchmark Panasonic lens in many cases. As far as build quality, it's solidly in kit-lens territory, with its plastic barrel and mount, and coarse-feeling zoom ring, so nothing to write home about. However, it feels sturdy and there's nothing objectionable about it.
Overall, the YI 12-40mm lens seems like a more competitive product than the actual camera it was made for, the YI M1. It's performance is more in-line with the rest of the Micro Four Thirds system than the M1 camera's is. There's no way to buy this lens separately from the YI M1, but there's really no reason to, either, as there are plenty of other kit lenses with similar specs. Buyers considering the YI M1, though, will be happy to know that their camera is coming with a kit lens just as good as (and in some cases, better) than the "name brand" cameras' kit lenses.