Kurt Bradley is a former competitive driver turned motorsports photographer. He's shot top-level international racing events such as Formula 1, MotoGP, and WEC, but also attends regional track days and car shows, plus the X-Games. Kurt has experience with photographing the unique setting of nighttime road racing. Few races go into the night – two of the most famous are the 24 Hours of Le Mans and 24 Hours of Daytona – but the visuals are one-of-a-kind. Kurt attended Daytona this year and was able to share some his insights from the race, which he shot for Jalopnik, a popular automotive blog.
[All photos by Kurt Bradley]
How did you get started with doing car photography?
By complete accident. I've been around fast things most of my life, and once borrowed a friend's Canon 1D to snap a couple pics at a race. I was slightly hooked, but waited until late 2012 to truly pursue it, once Formula 1 returned to the States. After that, I had to do this. I figured out that I had an eye for it (also with the suggestion of a couple friends), and decided to chase the potential talent. I had no idea it would go this far, and am immensely grateful for the opportunities I've been given for the past 4 years.
What's one of your favorite stories from an assignment you were on?
It was this year, while covering the Rolex 24 Hours at Daytona. I thought I might try to stay awake to cover the whole 24 hours of the race, including all the pre- and post-race activities. What I hadn't planned for was how cold and rainy it would be through the night. Temps were down in the 40s, and it rained for about 10 straight hours. Around 3:00 a.m., I was a mess. Even though I was still getting cool shots here and there, I needed to wake up. I decided to throw together a big halfway through the race gallery, to get my mind off how cold and wet everything was. The gallery was a hit with Jalopnik readers, and comments starting flying in. Fans of the race and the site were also up with us, and tons of them were actually out in the weather at Daytona International Speedway with us. At that point, I had to get my shit together, and stick with it. People were in way worse conditions that me, and I had people wanting to see what I could pull off. At the end of being awake from 6:00 a.m. Saturday morning until 9:00 p.m. Sunday night, I hit the wall hard. The next morning, I threw together the mega gallery while sitting in the airline lounge in Orlando, and saw what I really came up with. Probably the best assortment and challenge I had ever compiled and accomplished. Guess I need to be sleep-deprived and loaded up on Red Bull in miserable conditions more often. Results here.
What do you like most about nighttime racing, and what makes shooting it difficult?
I love the lighting contrast between prototype and GT cars in the dark. Prototypes typically use white lights, and GTs have yellow ones, to make it easier to pick them out in your car's rear view. When those lights are projected in humid or wet conditions, it makes for cool lighting around the car you're shooting as your subject. The darkness surrounding the cars in space is awesome too. You get to pull the subject into a different emphasis than when you've got a well-lit background, and in slow shutter speed shots, it gets more intense. Especially when I do my ridiculous negative space work. The difficulty is adjusting to the lower light conditions to get the settings dialed in to pull off cool shots that also feature what makes the car distinct. Fast glass is a must.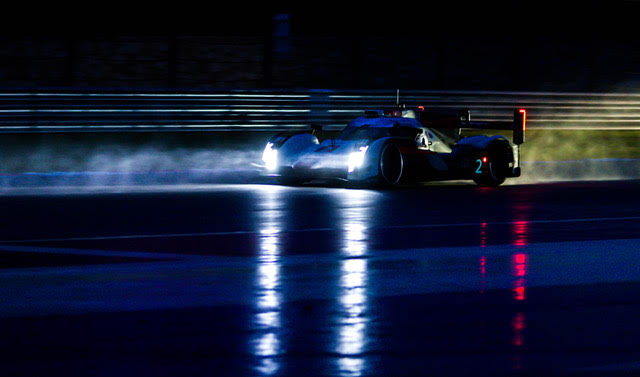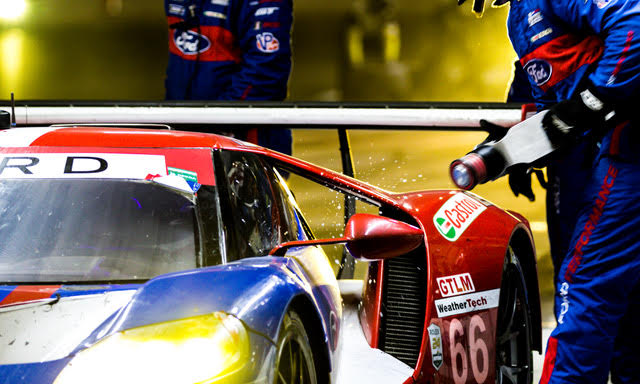 Over the course of a long event, how do you stay sharp and focused on the task at hand?
I can't plug Red Bull enough right now, but in all seriousness, I try to stick to light snacks paired with those little cans. Hydrating is a big deal too. Almonds, beef jerky, and granola are always packed with me for a race weekend. I can't rely on the provided meals at a race track. Some places don't supply food, and concessions stuff isn't the best for making sure you're at your best. I also try to get out to walk and breathe, alone, between sessions, when not editing. The solitude seems impossible to get when you're at a race, but it's actually easy to wander around a paddock to catch some fresh air.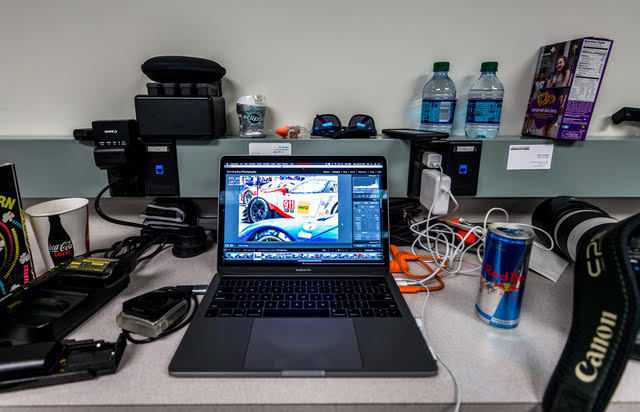 Then, after an event, how do you get through all the pictures you've taken, and pick out the ones with most potential, efficiently?
The rate button (or hacked lock button on the Canon 1DX/II) is your friend. Once I import a card after a session, I try to hit those rated shots quickly, to pick out ones that I'll change from 1-star to 3- or 5-star ratings. It helps me get the quick edits done, to provide to my client for deadline needs. Jalopnik tries to have session and race results up quickly, so I have to work fast to get a couple good frames to them. After that handful of shots is up, I roll over every shot in Lightroom, to flag at least 1-star ratings on shots to review for editing. Once the 1s are done, I then look for 3 or higher shots, to let me know which ones to edit next. After that, I give every higher-rated shot a second look before pushing up the edits to delivery. That doesn't sound complex, but I'm slightly obsessive, and have some great metrics for how I run through everything I do. Especially culling and editing.
Who are some other photographers that influence or inspire you, or whose work do you really like right now?
I'm a big fan of Jamey Price, Camden Thrasher, Alex Wong, and Vladimir Rys. They are all immensely talented, with their own creative style, who push the envelope in every shot.
What's the coolest car you've ever gotten to photograph, and why is that one the coolest?
A few months ago, I was hired by NIO to cover their week of breaking a couple lap records, including the fastest driverless lap ever, at Circuit of The Americas. This is a 1300hp electric car, with some slick design cues. It also is the widest road car I've ever shot. The livery they had on it was this bright blue that really popped in the Texas sun. Provided some great elements of color, even when incorporating COTA's signature stars and stripes around the track.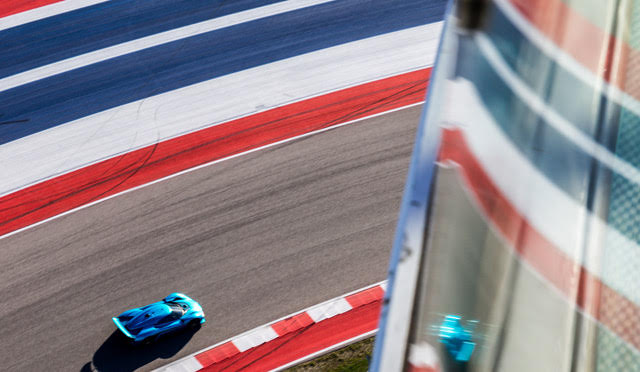 See more of Kurt's work at his website (link opens in new tab).